Here is another great band with an early release on Infopesa. From the jungle city of Uchiza (although it seems some band members may have been from other Amazonian towns). I'd love to tell you the story behind the band's name, or who played what instruments, or why seemingly only two members of the band seem to be a constant force in the group (i.e., Director, Emerson Ruiz Mosquera and voclaist, Wilson Arévalo Calvo). Alas, like so much of great Peruvian cumbia music, the band's story will likely remain shrouded in mystery.
I can't say enough great things about the first release on Infopesa, a largely instrumental masterpiece of intricate guitar work. From fast cumbias to relaxed ballads this disc shines bright in the canon of perumbias.
The group's proclaimed director Emerson Ruiz Mosquera (born May 26, year unknown),  appears to have had a strangle hold on the rights to the group name. From YouTube videos it seems a new formation of the group appeared in the 2010's. I've seen allegations on the Internet that he was the group's lead guitarist, but I have to respectfully disagree. At best, he seems to play guiro and have penned a few tunes for the group (see e.g., the YouTube videos of the 2010's where he plays nothing but guiro). Notably, he received a Disco de Oro for the song "Dolor Y Pena" despite that song having been penned by Orlando Abad Rojas. This song appears on the group's third release (2nd on Music Shop label). It's sad to say he recently passed in the summer of 2018, I would have loved to have been able to reach out to him and learn more about this group.

The other constant in the group was vocalist Wilson Arévalo Calvo. In the linked video below, Wilson states that he was in the band for about 30 years. Assuming the band started around the time they recorded their first LP for Infopesa in 1975, that would put Wilson in the band until 2005. Wilson was also a member of the group Super Serie de Uchiza, and it appears he was also in Super Serie with a guitarist that he states played in  Los Dexter's, Marcelino Herrera (although the one release of Super Serie does not list Marcelino as a member).
So with not much other information to go off of, based on the song credits on albums, and some inferential logic based off of pictures of the group (see the last shot of this post), it seems that members of the 1975 group that I can definitively confirm were:
Emerson Ruiz Mosquera-Director
Benigno Macahuachi C. – Lead Guitarist (he has the credit for EVERY single song on the LP)
Wilson Arévalo Calvo – vocalist
Marcelino Herrara-second guitarist
I think that the gentlemen on the cover of the first Infopesa disc with the glasses was Benigno Macahuachi (which YouTube comments suggest he was from Pucllapa). This same seemingly unique name appears as an author on two sides of Los Jelwees discs on Odeon (both tracks La Sorda and Son De Las Cuerdas). Likely he plays on that disc and then was brought into Los Dexter's. That would make the gentlemen standing on the far left of the first Infopesa disc Marcelino Herrara as my best guess.
It should be noted that I'm fairly certain that this pressing has serious issues (not unlike Can's German Ege Bamyasi pressing), in that it skips on the first few tracks on side A.
The next release has the group appearing, six years later, on the label Music Shop with a much more vocal-based sound than in 1975. Side note: I'm grateful that Music Shop conveniently enumerated their releases with the year in the catalog number, so I can with confidence say the first Music Shop release (and second release as a group after the premier on Infopesa) was in 1981–Toma Lo Mejorcito (LP.02.81.016) The irony here is that the title track was the only instrumental track on the album, compared to the Infopesa release which was nearly entirely instrumentals (and the most appealing release of Los Dexter's to my ears).
This disc has songs by:
Marcelino Herrera (2 songs)
Victor Galindo (3 songs)
Emerson Ruiz Mosquera (1 song)
B. Macahuachi (2 songs)
Juan Minches (1 song)
Pancho Acosta  (1 song)
Juan Cajusol (1 song)
The next release, also on Music Shop, was Fiesta En La Jungla (LP.02.82.036).
Fiesta En La Jungla has songs by (note that some of the credits are shared):
Emerson Ruiz (2 songs)
Javier Quiroz (1 song)
Orlando Abad (4 songs)
Ivan Rios (2 songs)–from a YouTube comment it's stated Ivan Rios played guitar
Benigno Macahuachi (2 songs)
Luis Bendezu (2 songs)
A. Cahuana (1 song)
Next came the release Nueva Dimension De Los Dexter's De Uchiza (Music Shop LP.02.82.060). Not owning this release, I can't tell you who wrote songs on the album, but from the pixelated back pictures I've seen on Discogs, it appears the group has no fewer than 10 (!) members at this time.
Chronologically next comes 1983's Alegria Y Amor (Music Shop LP.02.83.087). Oddly the disc's cover states Alegria Y Amor as the release, but the disc's lable refers to it as "Fiesta Amazonica." Either way, this disc was also released in Argentina under the name Dorandome Los Patanos (the title of the hit song from the original Peruvian release). Both covers are shown below.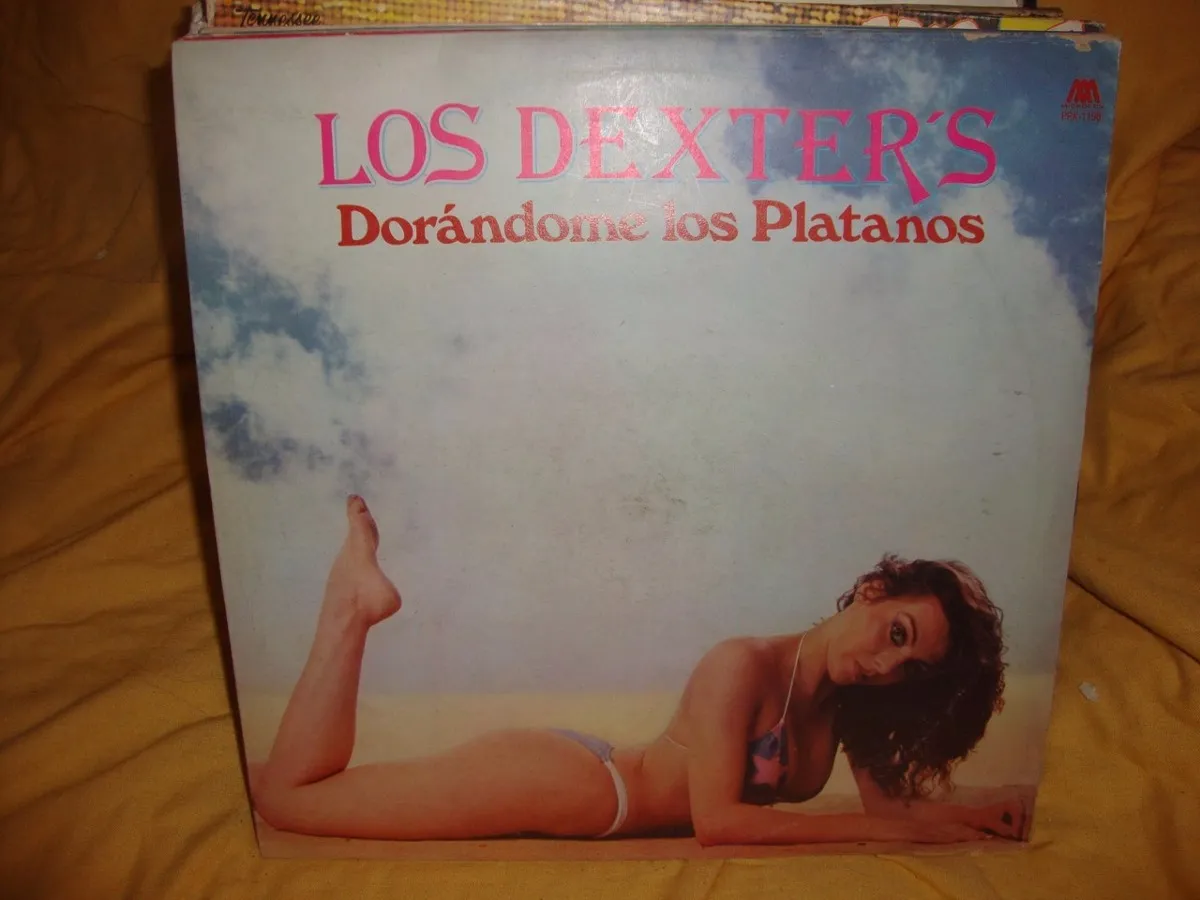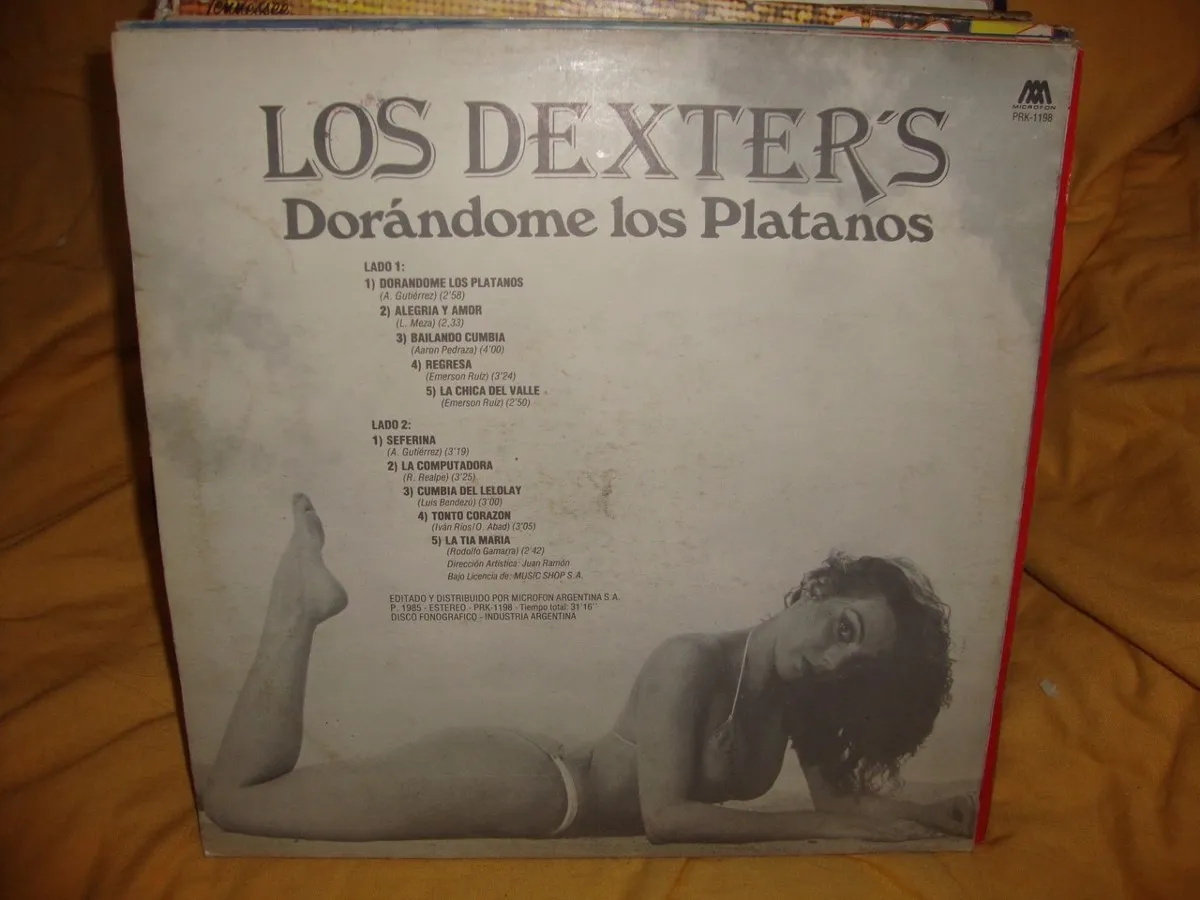 This album lists authors as:
Aaron Pedraza
Emerson Ruiz Moscera
A. Gutierrez
L. Meza
Orlando Abad
Ricardo Realpe
Luis Bendezu
Ivan Rios
Rodolfo Gamarra
M. Rodriquez
M. Concalvez
Next came 1984's 12 Exitos Super Bailables (Music Shop LP.02.84.110). Again, I don't own this one, but I know it exists.
Next up was 1984's 
A Bailar Empujaitos
(Music Shop LP. 02.84.121), yet another disc I don't own, but some records online show it's sexy cover below. You'll note the image below stipulates it as "No. 7" (top left corner).
Next came, Vol. 8 Los Embajadores de la Cumbia (Music Shop LP.??.??.???), and as far as I can tell the last proper Music Shop release of Los Dexter's. Provided that this disc is marked "Vol. 8" it would seem I'm missing at least two Music Shop releases here. That is one of either the 3,4,5,6 releases is not represented here. Presumably if they're counting the Argentine release as a separate I'm only missing one release, but still, nothing on the Internet has allowed me to showcase any other releases by the group. That is, until their return to Infopesa.
The group last appeared on vinyl it would seem on a 1987 Infopesa release, Con El Mismo Son, which divulges on the liner notes that the group first appeared in 1975, allowing me to say with confidence LPS – 8065 was 1975.
This disc boasts songs by:
Orlando Abad
A. Gutierrez
Emerson Ruiz Moscera
I hope if someone is out there with more information about the group that they'll reach out.  I've put together the below infographic which (only owning two of the group's albums) doesn't allow me to conclude much other than there was at least two members that were always a part of the group (Emereson and Wilson). I'd love to hear from someone that knows more!!!